Ah, 2018 has been quite the year for anime. It's been much of a year that I have decided to do 3 anime lists this time around.
Hell, the first thing that happened this year is that the beast known as Anime Strike has been slain although Amazon still streams anime in their regular service and some titles previously streamed by them got licensed by other companies (mainly Sentai for getting "Scum's Wish" and "Dive"), they have a long way before actually doing something about the majority of titles they hold. Again, this is why I prefer Netflix when comparing the two because at least I get a dub of the show. Although I wonder how they will fare with their announced anime titles coming to 2019, including getting Evangelion in there as well.
And then there's the breakup that….. we actually should've known but didn't pay much attention to and of course, the FuniRoll breakup. It was inevitable since both companies are a part of different companies (CR being a part of Otter Media, owned by Ellation and now owned by WarnerMedia and Funimation being a part of Sony Pictures Television) and thankfully it didn't end in a bad way…..at least not for a few weeks until Gen Fukunaga had some things to say.
As usual, this is the Worst Anime of 2018. You know the rules…..these are my picks and if you actually like them, I have nothing against you liking those titles. Understand I really didn't like, hate and/or despise them. Oh, and before we get to this list…..Darling in the FranXX is not going to be on this list. As disappointing as I thought the show was, there was a bunch of worse shows than those and as much as Revue Starlight was rather uninteresting to me (and the Ikuhara comparisons didn't help much and I dread when his anime premieres in the Spring), it wasn't going to be at my chopping block.
But before we get to the list proper, some DISHONORABLE MENTIONS….
RECORD OF GRANCREST WAR // 24 EPS // A-1 PICTURES // ANIPLEX OF AMERICA
KAKURIYO: BED AND BREAKFAST FOR SPIRITS // 26 EPS // GONZO // CRUNCHYROLL/FUNIMATION
Here's the thing: I put these two shows together but these are the only shows I have dropped this year. The problem with me getting into them is that they seemed like a bland version of their respected genres. One's a show about youkai and working at a bed and breakfast with her but it never got me to go further into it. It's just some tiresome shoujo shit from the bland pretty boys and that one girl who's the "main lead" just cause. The other one…. again, some blase fantasy anime whose plot got more blah going further.
CITRUS // 12 EPS // PASSIONE // CRUNCHYROLL/FUNIMATION
This seems like it would've worked better as a hentai. As played straight, this is another melodramatic romance show but with a yuri taste with all the expecting tropes from a show with hetero leads like childhood friends coming back, some other girls suspicious of the other girl's motives and there's nothing about that that progresses the characters or story. Yes, I know these two aren't exactly sisters and I still don't know if it's incest or not but I know it's a trainwreck.
GRAND BLUE // 12 EPS // ZERO-G // AMAZON PRIME
Everybody knows that humor is subjective and there are content that some people find funny that others don't. That's how I feel about this title in particular. I've seen people in my Twitter feed liking the show and I get it. But every joke is just the same repetitive crap from a bunch of naked dudes with their dicks hanging out, drink– no, DRANKING and lots of it, the main lead always getting into some shit, some of the girls' annoyance at said guys gets annoying because that's all they're here for and a bunch of losers that can't get any girls. This is the equivalent of getting pressured into drinking at a party when you're not much of a social drinker but you went anyway just to get out of the house and get your friends to stop nagging at you and you think you like it at first but the more you think about it, the more annoyed and sick you feel after the hangover.
JUNJI ITO COLLECTION // 12 EPS // STUDIO DEEN // CRUNCHYROLL/FUNIMATION
While I'm not familiar with Junji Ito nor most of his works, the anime didn't do much to help that. Some of the stories may have got their horror feel but some of it is just being weird for weird's sake or trying to be funny but it isn't. I may not be much of a horror fan but I do understand and respect the appeal and art into it.
SWORD GAI THE ANIMATION // 12 EPS // DLE/PRODUCTION I.G // NETFLIX
Note that I just watched the first 12 episodes of this and didn't bother with the 2nd season. It's a bland action series with OK animation, a lack of focus into its plot (or sub-plots since most of the time Gai didn't even the main lead in them) and laden with much stupidity but not in a fun way. Just very boring as hell.

GOBLIN SLAYER // 12 EPS // WHITE FOX // CRUNCHYROLL/FUNIMATION
Hey, this show isn't going to be on the worst list proper!!! That doesn't mean this show isn't ass, tho. It's another generic isekai fantasy show with a boring-ass lead and boring-ass characters that we barely give two shits about and while that first episode was controversial and tasteless, everything else is just as calculated and by the numbers as your next isekai fantasy show.
And now onto the list!!
10.
BEATLESS // 24 EPS // DIOMEDEA // AMAZON
I would've been fine with this if this was 12 episodes because that would mean they didn't waste my time with 8 extra episodes, with 4 recaps and a Final Stage anime at September and at that point, I just gave up. The series has some interesting points and a fascinating character in Lacia but it went on too long, the continuous developments that go nowhere and additional characters you couldn't give less of a shit and like it did when it was airing, it will be forgotten in time.
9.

THE MASTER OF RAGNAROK & BLESSER OF EINHERJAR // 12 EPS // EMT // CRUNCHYROLL/FUNIMATION
Speaking of isekai fantasy show, this is the one that I should've been more hard on during the Summer. I was worried about Demon Lord although that show turned out to be actually enjoyable. This, however, is everything I was worried about from the protagonist, the harem of girls that desperately wants his dick and not to mention that some of them play off as his sister or daughter and yeah, that's just creepy. Oh, and of course some plot in there you obviously don't care about because I doubt you'll remember what the hell went on there.
8.

MY SWEET TYRANT // 25 EPS // YUMETA // CRUNCHYROLL
Good thing this show has a 3-minute format because this was a regular format, it would've been higher but man, the whole thing about this is just so damn stupid. A tsundere-ass dude acting like he's repulsed by his girlfriend but secretly, he loves her kawaii self and I think she knows it, too. Again, not the most repulsive romance show but this is so asinine and idiotic.
7.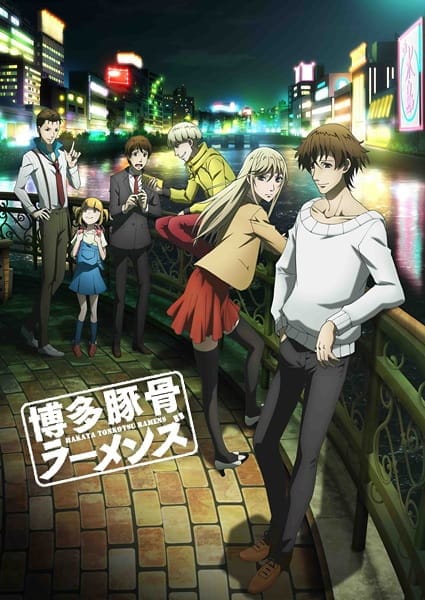 HAKATA TONKOTSU RAMENS // 12 EPS // SATELIGHT // CRUNCHYROLL/FUNIMATION
So what happens with you take something from a show I love (ex. Durarara!!!) and takes everything about it that makes it fun, unique and has a lot of replay value? Well, I'd say Bungo Stray Dogs but that isn't the subject today, it's this show. Wow, I can't believe how lame this show is and despite it having a cool jazz ED at the end, the characters are nothing that interesting, and while it's very fast-paced, not much about it makes me want to go over what happened. It might have the appearance of being fun but having watching it, this was not fun at all.
6.
ISLAND // 12 EPS // feel. // CRUNCHYROLL/FUNIMATION
Let's see…… atrocious story, lame and dull characters that have them doing a bunch of dumb shit and typical shit considering the main ones are this one dull guy and 3 girls that look younger than he does and the twist around that….oh boy and speaking of that, that stupid twist near the end got me going like "What in the hell!?" It's a good thing I watched this in the dub because if I did in Japanese, I would definitely dropped it at some point.
5.

CONCEPTION // 12 EPS // GONZO // CRUNCHYROLL/FUNIMATION
This was going to be bad the moment the first episode happened. The plot for this show was DOA because we all know about that birth rate problem Japan has and somehow Prime Minister Shizuo Abe thought this would be a good idea…….nah, motherfucker, this isn't it. I've seen harem shows that think that got a plot but doesn't have better stories than this and girls that have a defining character trait than the fucks girls they got here. Also, that mascot is definitely no Morgana or Teddy or Kuma….. he's just that annoying.
4.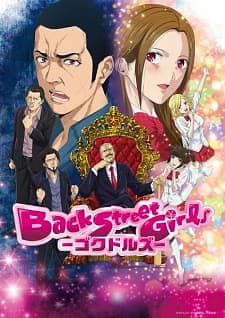 BACK STREET GIRLS (GOKUDOLS) // 10 EPS // J.C. STAFF // NETFLIX
eard some things about this show during the summer and noticed that it was going to air on Netflix. It's a good thing it did because oh god, this show sucks! HARD!!!! Look, I know this is dark comedy and all that but even with that, none of it makes me want to laugh. In fact, I laughed at….. well, maybe a few chuckles here and there but I was just like them in the anime with that grumpy and miserable face with the eyes blackened out. Hell, everybody in this show is an awful character from that mob boss who has an obsession with changing a lot of dudes into his idols and treating/beating the shit out of them. Kotaro, he is not.
3.

DEATH MARCH TO THE PARALLEL WORLD RHAPSODY // 12 EPS // SILVER LINK // CRUNCHYROLL/FUNIMATION
Hey, what I fear the Slime anime would turn out to be!! Yeah, thank god that show ended up being as good as it is because it just reminds me of how terrible this show is. It has some promise here and there with the protagonist being a thirty year old programmer but when he got transported into the game….. BLAM!! He's a teenage OP fuck with a slew of young girls on him but wait, he doesn't attempt to sleep with them. They came to him and of course, he's the bland, everyday, smiling, nice guy. Look, I don't mind if the main guy is a nice dude and all. Hell, I like it when they made someone I can like throughout the show but I have to be invested in them and their journey as well. There's no journey, no overarching adventure, just the adventures of another OP hero to feed into that fantasy.
2.

REAL GIRL // 12 EPS // HOODS ENTERTAINMENT // HiDIVE
This was originally lower on my list but the more I think about it, the more I think the show is outright garbage and offensive as this basically characterizes otaku as lonely outcasts to be mocked and called gross and doesn't know how to function the real world and yet we want to root for the main guy but he's too stupid to root for. The "Real Girl" of the anime isn't much to cheer for, either. Her friend is a massive bitch and the guy that later on joined them is a douche considering he set up the main guy to be a pedophile but everyone forgave him instead of shaming him because "Hey, at least you're hot!"…..this sounds like some bullshit I hear from a live-action teen soap opera. What kind of fucking logic is that!? Oh, and there's more to come since the whole incest arc is left open and this is supposed to be cute? This is fucking degrading and nauseating and while another season is coming in 2019, it's bound to get worse than ever.
and finally….
1.

MAGICAL GIRL SITE // 12 EPS // PRODUCTION dOA // AMAZON
Yeah….. this particular fucking show.
It seems as of recently that most people think that others can't handle when anime go to more of a grimdark and edgier direction. Nah, they can handle it. It's how the show handles it. In the first episode of this, the main girl gets bullied a lot at school, has razor blades stuffed in her locker, her brother tortures her as well, a kitty she saves earlier gets thrown to a train and handing her back the dead pet and also attempted rape by a upperclassman. Yeah, all that in the first episode. All the hell this show does is just throws whatever edgy grimdark shit at the drawing board and they just do it. There's nothing symbolic or profound about torturing cute girls because there's some message or some dumb shit. It's too straightforward to be some parody, it's too gross to be profound and to put it in simple terms…. it's lazy and boringly awful wallowing in its own mess. Again, it's a good thing that it's on Amazon because knowing them and their 'anime strategy', this might never make it there. Good.
MAGICAL GIRL SITE. WORST ANIME OF 2018. NUFF SAID!
Stay tuned for when I talk about the Top….. Honorable Mentions. Yeah, I got a lot of that to talk about.
I'm MAK2.0 aka The Blue Hybrid and it's always good to get the anger out this way.