OK, I've said to y'all that I'm doing another list for anime this year and it involves my long list of Honorable Mentions. Now, this is what I probably should've clarified.
This is the Honorable Mentions section where I discuss the anime I have ranked from 21-35 are.
Yes, 11-20 will appear on the official top 10 List as those Honorable Mentions. OK, this is a bit confusing because I might as well call these "The Honorable Mentions That were Good but not Good Enough to be mentioned in the official Top 10 List."
You know what, fuck it, that list will be a top 20!!
Yeah, I didn't think this through during the process of making these lists but here we go!! THE HONORABLE MENTIONS IN ANIME 2018!!!
ROLL OUT, BITCHES!!!!
And yes, these are in order from top to bottom this time.
TADA NEVER FALLS IN LOVE // 12 EPS // DOGA KOBO // HiDIVE
I love the fact that while this is very much a romance title, it does a natural progression with being friends and progressing into something more. I've said it before that it's more of a friendship anime. The cast all-around make a likable bunch of characters you'll love to watch, especially our two leads Tada and Teresa, with the former being into his photography and the latter that's in awe in the surroundings of Japan and has a pleasant and enchanting aura. Plus, Nyanko Big MVP of the year. Great show, it's worth checking out and the dub is fantastic as well.
HAKUMEI AND MIKOCHI // 12 EPS // LERCHE // HiDIVE
In the beginning of the year, we had some chill anime for the Winter season and this was one of them that is very chill and also adorable from the atmosphere of the forest, the character interactions between the two leads and knowing the world building. Again, that season had a lot of those (and we'll get to another one later on) and like them, this one is damn good.
LUPIN THE 3RD PART 5 // 24 EPS // TELECOM ANIMATION FILM // CRUNCHYROLL
Not to spoil this list but this is the only thing that's named Part 5 is on this list and with this series as Lupin and crew had to step up on evading the police and Zenigata with the internet now on his ass and with a new comrade with Ami. I was definitely digging the hell out of this, probably more so than Part 4. There were moments in there that I could Lupin was done for but knowing this show, he always have a way of escaping such fate. Again, I await the day it comes on Toonami…. even though it might get some changes thanks to TMS.
A PLACE FURTHER THAN THE UNIVERSE // 13 EPS // MADHOUSE // CRUNCHYROLL
Y'all going to kill me for not putting this on the official list but this doesn't mean the show isn't good. In fact, it is very good. One of the first shows I covered in 2018 and this show wasn't nearly as hyped prior to it but it just sneaks up on you and it ended up being so emotional, adventurous and very beautiful in every aspect. You see why the NY Times put this on their best shows of 2018 list. Now please, make a dub for this show. I'd love to watch it again.
SWORD ART ONLINE ALTERNATIVE: GUN GALE ONLINE // 12 EPS // STUDIO 3HZ // ANIPLEX OF AMERICA
I said it before and I'll say it again, this is everything that the original series wasn't…. an actual fun series with characters that you can relate to and are capable players in their own right without being unbelievably OP or have to result to putting sexual assault just to intensify your story. Oh, and the writer of Kino's Journey is also to give credit since the spinoff was his original material. I guess it goes to show you that sometimes the original creator (of SAO in this case) doesn't always know how to write a satisfying story.
BLOOM INTO YOU // 12 EPS // TROYCA // HiDIVE
The trials and tribulations of Yuu and Nanami in seeing how their relationship grows in the course of this very subtle LGBTQ romance anime. Yes, it's a slow burn of a show but still good nevertheless.
CHIO'S SCHOOL ROAD // 12 EPS // DIOMEDEA // CRUNCHYROLL/FUNIMATION
A wacky and crazy comedy of the antics of one Chio Miyama along with friends of her about her daily route to school and see what in the hell type of stuff she'll get into either from motorcycle gangs, girls that know Kabaddi that just want to play grab-ass, little girls that want to– actually, describing that thing would not sound good reading out loud and typing it. Anyway, this show is a hilarious riot from start to finish.
THAT TIME I GOT REINCARNATED AS A SLIME // 24 EPS // 8-BIT // CRUNCHYROLL/FUNIMATION
Let's face it. Most isekai shows have either been awful with the same generic fantasy shit with the same bland male lead with his bevy of girls to flock and fawn but with this…..this guy being reincarnated as a slime and helping out people from wolves, humans, goblins, etc…. in other words, I'm mad for doubting this at first because this show is fun while having some good stories with other characters coming in and while it's still running, I'm eager to see how this will turn out.
KARAKAI JOUZU NO TAKAGI (aka Teasing Master Takagi-san) // 12 EPS // SHIN-EI ANIMATION // CRUNCHYROLL/FUNIMATION

OK, I didn't talk about this show at all because it was one of these titles I just watched the dub of and didn't say much in the wrap-ups but this was cute. I liked the whole format with Nishikata always playing to play a trick with Takagi but she's always one-step ahead and yet this feels so funny. You feel like you would know someone as smug and tricky as Takagi. Although all of you that both of them like each other a lot, like a lot!!
VIOLET EVERGARDEN // 13 EPS // KYOTO ANIMATION // NETFLIX

Well, you knew the KyoAni show was going to be on this list because while I do in fact like this show, it doesn't scream AOTY in my eyes. However, I can recommend the show for its animation, the slow-paced development of our lead Violet and some genuine emotional moments. Again, some of y'all already got this on your AOTY lists but for me, it's still something I can recommend to viewers.
FLCL ALTERNATIVE // 6 EPS // PRODUCTION I.G/NUT/REVOROOT // ADULT SWIM/TOONAMI
This year we had the sequels of FLCL airing on Toonami in the summer and in the fall. Now, the results of these shows have been very divisive among audiences. Some like Progressive more. Others like Alternative a bit better and I see why. Alternative has more of the slice-of-life, less chaotic vibe with the main protagonist Kana having no direction in her life other than butting in her friends' problems. I still like this show, probably not as much as Progressive but I'm glad to see these two shows made.
HANEBADO! // 13 EPS // LIDENFILMS // CRUNCHYROLL/FUNIMATION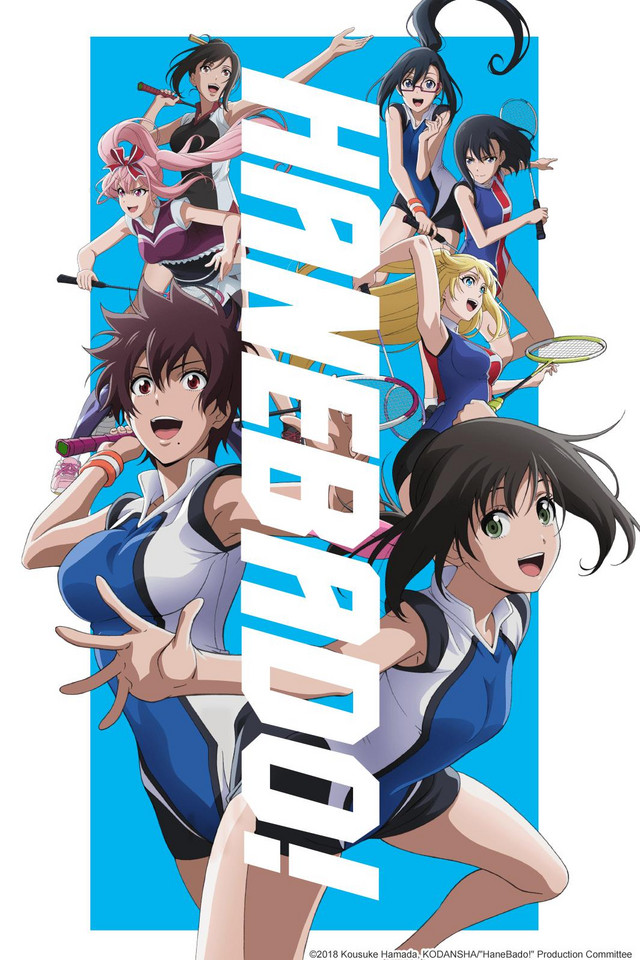 Granted, this show did fell off a bit as the weeks went by but this turned out be a pretty good sports show. A bit melodramatic near the end and the whole mother/daughter thing could've worked out better but it still makes a decent watch.
MITSUBOSHI COLORS // 12 EPS // SILVER LINK // HiDIVE
Funny show with the antics of these three girls adventuring around their town and it has this genuine sense of glee and heart put into its presentation. I also kept hearing comparisons with this to Ed, Edd N Eddy. OK, I get it but I don't think there was an episode where one of the girls was sleep-eating through the night or messed with the fabric of reality. Still, pretty good show.
AS MISS BEEZLEBUB LIKES // 12 EPS // LIDEN FILMS // CRUNCHYROLL
A very fluffy and cute show about being in Hell……no, really. That made Hell look like the most kawaii place in the show and while still being entertaining and comforting. Yeah, this is anime version of comfort food…..so comfort anime? Yeah, I don't know how to word that.
SEVEN DEADLY SINS: REVIVAL OF THE COMMANDMENTS // 24 EPS // A-1 PICTURES // NETFLIX
Back into this show and while they was a bit of a ret-con from earlier, the show still escalated with what's to come for these characters with more of their backstories, more into characters like Merlin and even one member of the SDS that we didn't know exist. Also, Meliodas has stepped up in regards of character with what he's going through and yes, the dude still likes feeling up Elizabeth but I think she likes that. HAWK IS BEST MASCOT!
And those are my honorable mentions!!! AKA what you're not seeing on the list official. Stay tuned for that list as well!
I'm MAK2.0 aka The Blue Hybrid and I got one more list to do for y'all!