Now for the final post for this edition of Time of the Season, it's that time again! I talk about the sequel seasons of shows that premiered not too long ago and while in some way, it differs and parallels with a bunch of shows returning…..
….. and in case you're new, here's some exceptions aka stuff I'm not touching.
BUNGO STRAY DOGS S4 – Look, I checked out the first season way back when it premiered and yeah, this is not my thing. I think I ended up hating it and just not going back to it.
BY THE GRACE OF THE GODS S2 – The first season didn't have a good first impression and it ended up being too boring and lifeless, ultimately ended up on my worst list in 2020.
THE FRUIT OF EVOLUTION S2 (or NEW The Fruit of Evolution) – Oh yeah, this premiered in the Fall 2021 and I didn't check it out initially and I heard how bad it is and I watched the dub of it…… I'm not gonna say it's bad but I don't have much positive to say either and I'll probably watch on that.
AGGRETSUKO S5 – Yup, this is returning and please let this be the final one!
AND NOW HERE WE GO!! With 6 of these, this time!!
First off, the one show I almost end up hating but actually, it's not too bad!! Hell, it has more personality than most shows.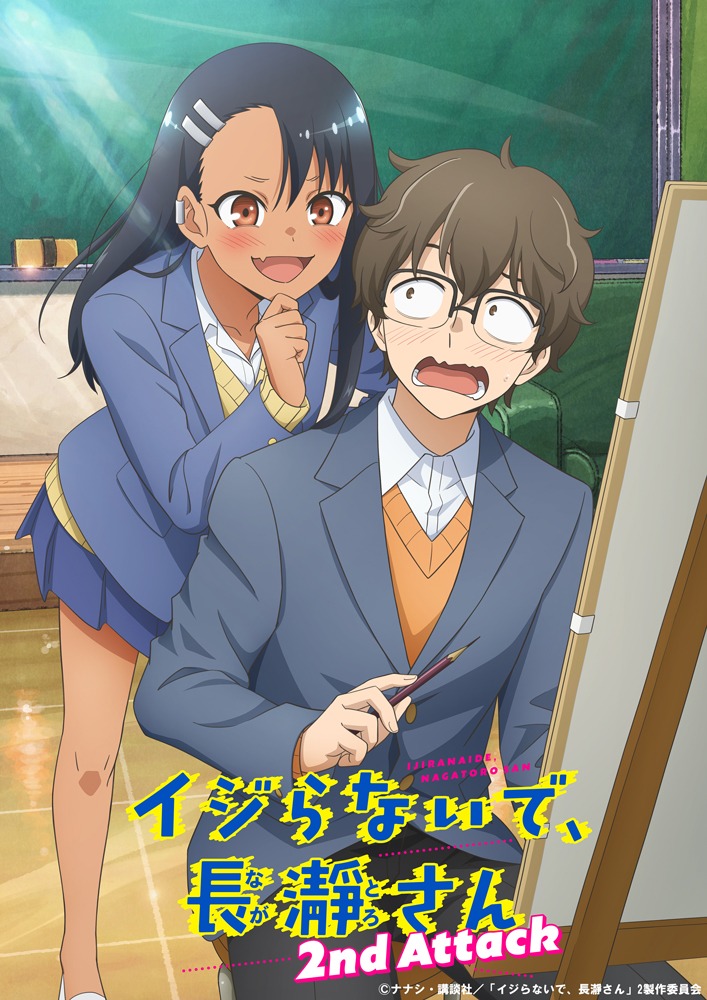 DON'T TOY WITH ME MISS NAGATORO 2nd ATTACK // OLM // Crunchyroll
Yeah, I feel like the bullying aspect has eased up in the middle of the first season and just did straight up teasing and sometimes it back-fires on her and guess what? That can be funny as well as it isn't always just the "shit on the guy" half-hour and there's the usual stuff of the teasing that can be a little annoying and while he does fancy some of the horniest things, outing him like that does get me at an eye-roll. It's still funny and hopefully it continues to be on the line of playful teasing and not just making him feel like shit.
Oh and recently, the 2nd episode aired even though it premiered on a Saturday
CONTINUE WATCHING.
Next up, it's called The Christmas Showdown when…… well…….. and also it's now on a new home being…..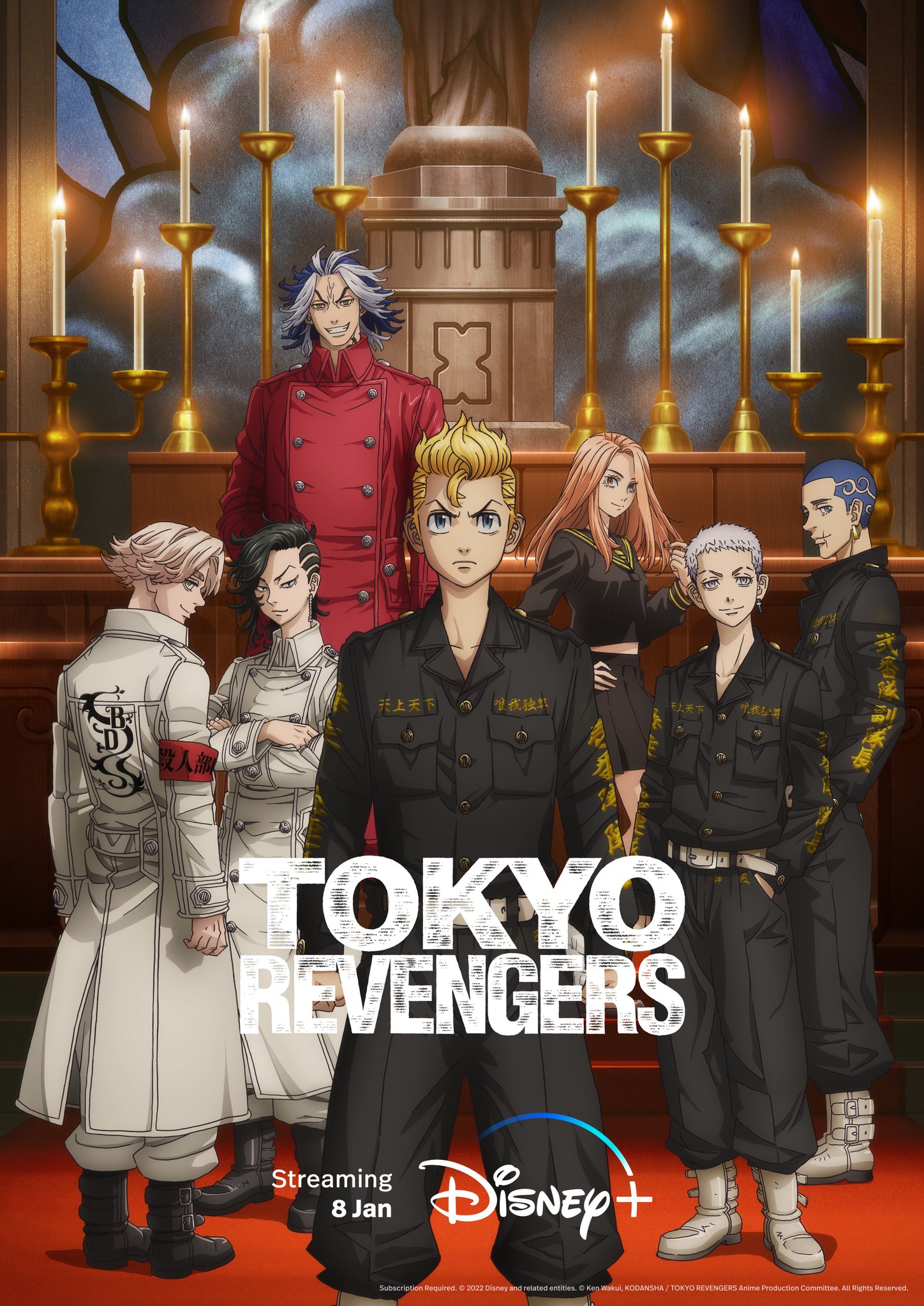 TOKYO REVENGERS: CHRISTMAS SHOWDOWN // LIDENFILMS // Hulu/Disney Plus
Yes, this show is now on Disney Plus…. internationally while in the U.S, it is on Hulu and going back to where we left off and now…..yeah, things are not really a walk in the park with Takemichi with finding more about his gang and even more that fucked up either the timeline or mess things up more with him trying to save….. well, everyone but especially Hinata from dying. Hell, I think he might've caused her death in one thread. I know, I know, there's some manga shit going on that people know in the end and in this site, I…. don't give two shits. I'm just here to see what happens in animation and I know this might be a short season but I hope it's closer to something good but I doubt that. Also, with now Hulu/Disney handling streaming distribution, here's hoping they dub it and have the original cast back.
CONTINUE WATCHING.
Oh fuck, I almost forgot about this show!! Then again, can you blame me?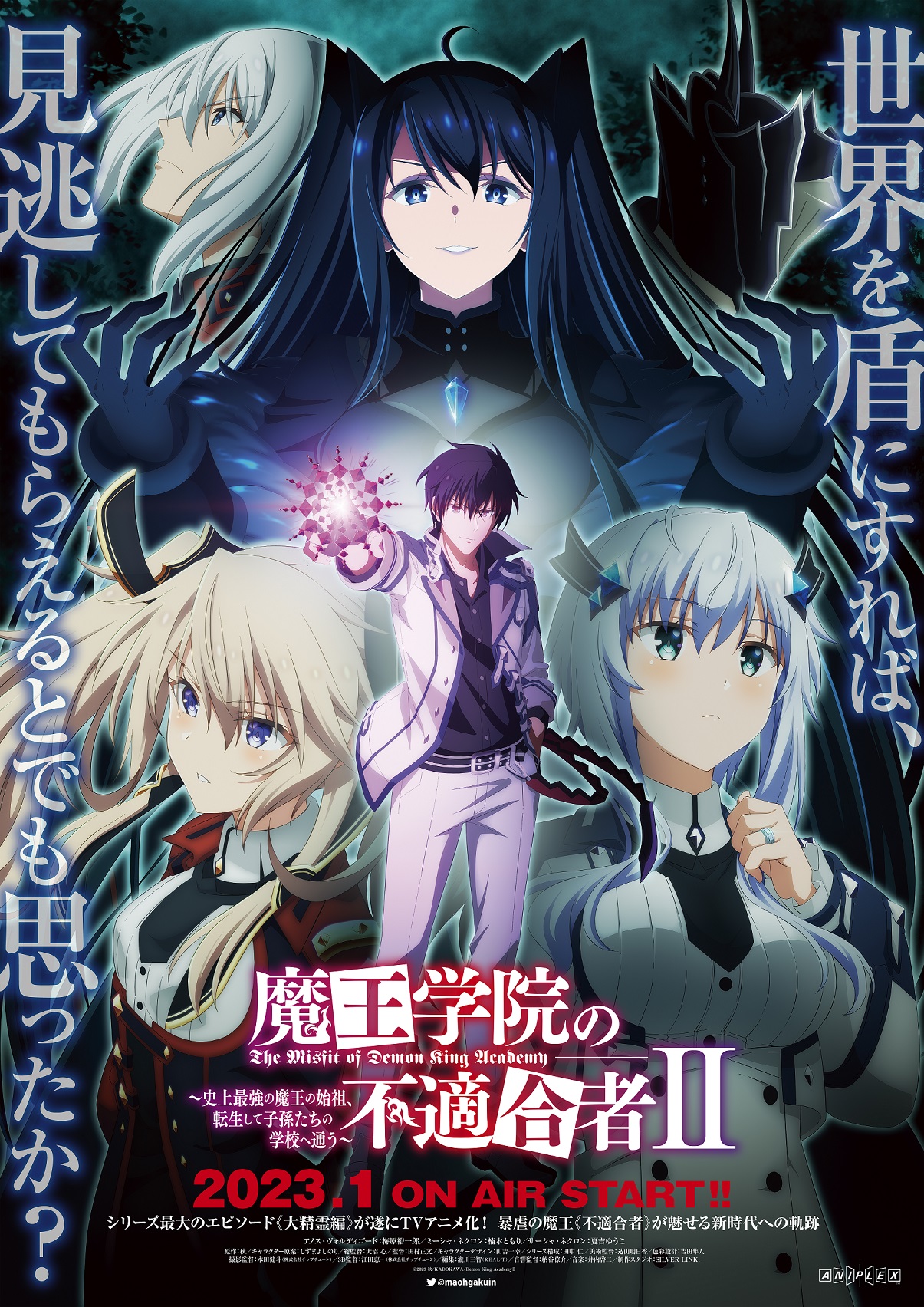 THE MISFIT OF DEMON KING ACADEMY S2 // SILVER LINK // Aniplex of America
Look, can you blame me for not remembering this because the first episode doesn't spark much of anything to talk about? It seems like the usual magic high school overpowered bullshit that always in anime with the MC being….. well, what I just mentioned and of course, he got a harem especially with the two girls from the last season. I'm not gonna go on about this. I know I'm heading to some bullshit with this and guess what? That humorous feeling you got from the first season? That's not here, it's just another boring magic high school anime.
GIVE IT 3 EPISODES, OTHERWISE SKIP IT!
And now the ONLY good Crunchyroll Original to get a sequel season!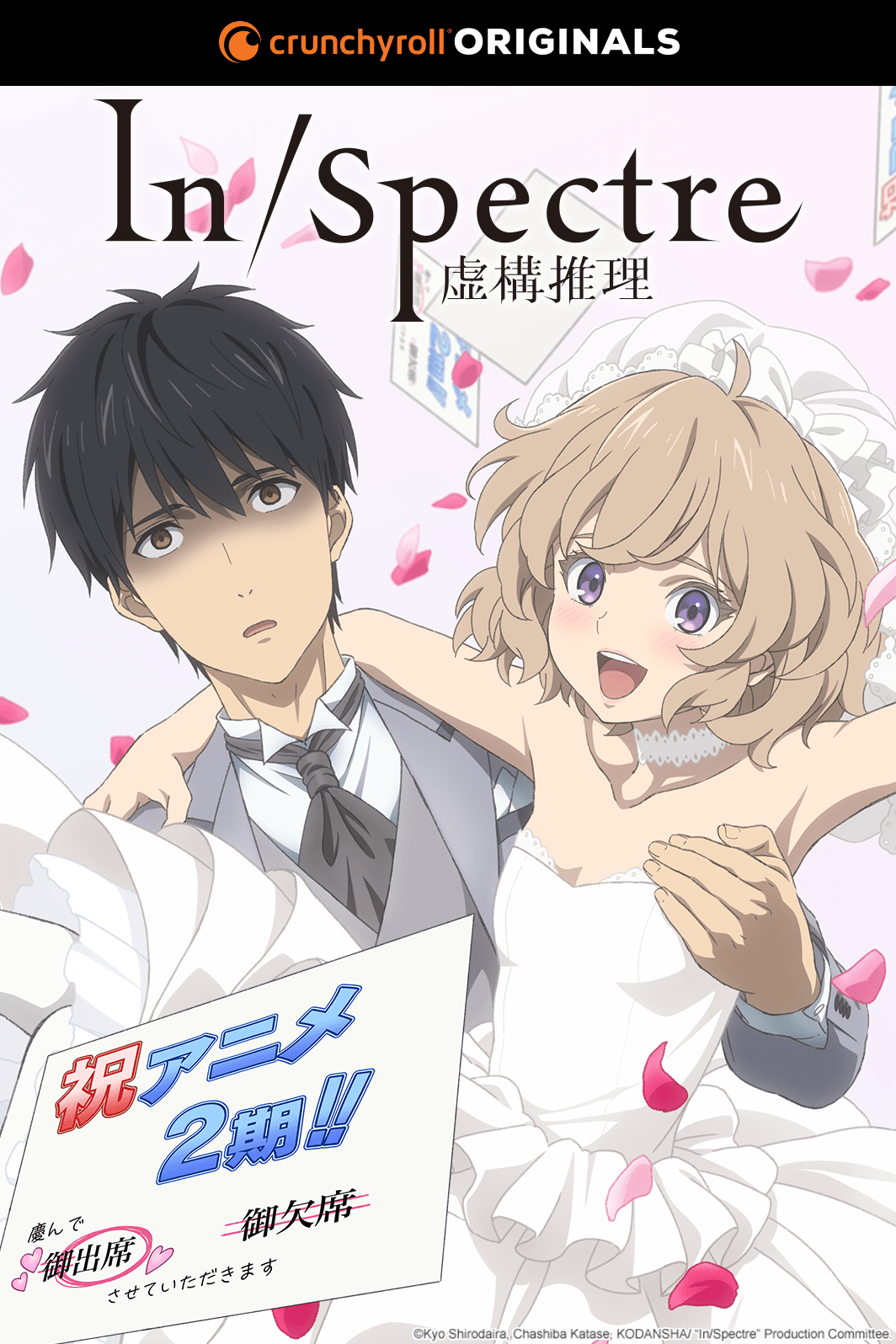 IN/SPECTRE 2nd Season // Brain's Base // Crunchyroll
I meant it. This show is actually the better of the Crunchyroll originals and nothing else has ever topped it and I meant ORIGINALS, not co-pros so don't count ODDTAXI (that show is great, too, in case you forgot!) and alright, we're back to the weird supernatural shit with this one and this episode is more of a refresher since it has been 2 years and it reminds me that Kotoko is a pretty cool character. Yeah, she can be a bit clingy to the main guy, Kuro, but other than that, pretty badass and sharp, too. Also, I mentioned before that I really dug Lizzie Freeman's performance in the dub in the first season and I really hope they bring the dub cast back here. Hell yeah, I'm watching this.
CONTINUE WATCHING
Everyone's favorite armadillo is back!!! Along with them other two motherfuckers in there…..
THE VAMPIRE DIES IN NO TIME S2 // MADHOUSE // Crunchyroll
Yes, we get more John here! CONTINUE W—
OK, OK! The show hasn't missed a beat as it still got the humor, timing and charm that we know and love from the first season to Dracul 'dies'/turning to sand and Ronaldo dealing with antics of Dracul and yeah, the MVP being John. Yes, we all love John. That's it. Just watch it. Also, I'm certain that CR is going to dub it, just not very soon or maybe….. I don't know. It'll get dubbed eventually.
CONTINUE WATCHING.
And onto another sequel of a 2020 show that was surprisingly good!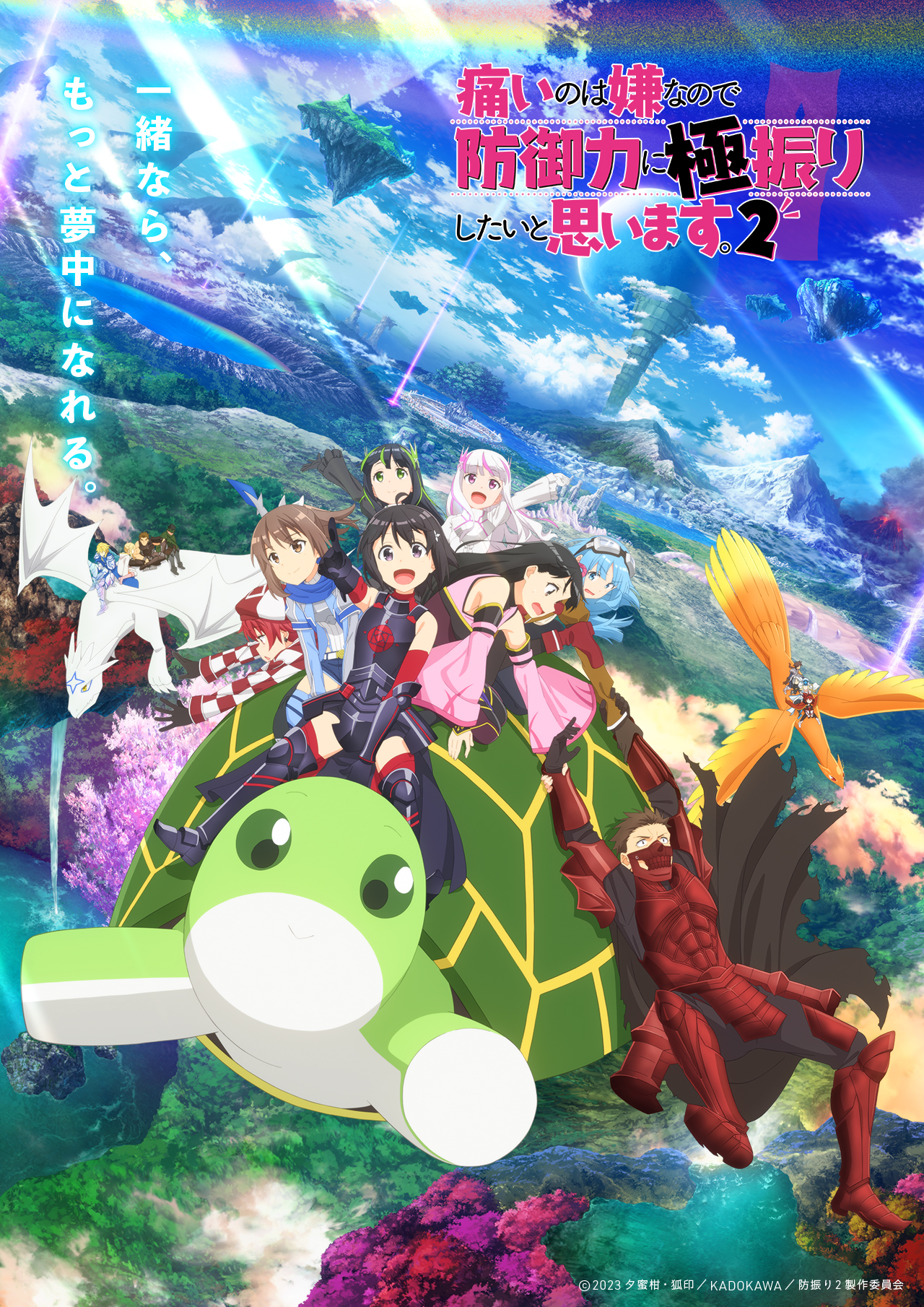 BOFURI: I DON'T WANT TO GET HURT, SO I'LL MAX OUT MY DEFENSE s2 // SILVER LINK // Crunchyroll (Funimaton)
I have been re-watching the first season of this in English dub in prep for this and I'm saying this for that season and the new episode…..damn, this was just a fun show to watch and it makes the overpowered character aspect seem more fun to watch than just gotta be the hero all the time. It helps that this is just a straight-up video game that doesn't have the unnecessary life or death bullshit and also our cast of characters are quite likable, including the heroine Maple. So yes, more of these fun adventuring shit, please!
CONTINUE WEEKLY.
And that wraps up Time of the Season for Winter 2023! As usual, I'll be back in March to see what anime ends up being the best and the rest….. well, yeah.
I'm MAK2.0 aka The Blue Hybrid and you know what? I'm gonna add a song here just because!