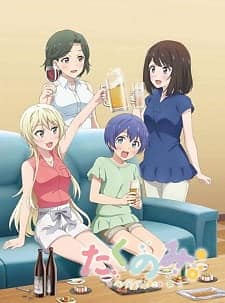 The next two anime that I'm covering for review has some things in common with each other…..sorta. You'll figure it out by the time the next review should come out.
Anyway…….
You like anime girls? You like drinking? You wonder what if there's an anime that's like Dagashi Kashi only with alcohol and more main girls…..and they both shared a timeslot once on TBS (Tokyo Broadcasting System) since this and 2nd season of aforementioned show had only a 15-minute run time? Well, this could be the anime for y'all…..I think.
20-year-old Michiru arrives in Tokyo where she will start a new job and big-city lifestyle, moving into Stella House Haruno, a women-only share house. The three other young women there – Kae, Makoto and Nao – welcome her warmly, and as they live their lives they experience a variety of Japanese alcoholic drinks, one featured per episode.
OK, the synopsis pretty much just described each episode of this series and yeah, you can call this fluff but fluff isn't always a bad thing. It's actually quite comforting as it starts with the main girl Michiru moving in the big city and being welcomed by the other three women with one of them earlier helped stop a thief from robbing her purse. It's slice-of-life with alcohol added and the way the alcohol beverage of the day is introduced is very casual and makes me interested in knowing more about it, and I am not much of a drinker to be honest….. it's just more inviting rather than drink yourself silly with whatever cheap swill and people nagging you to keep getting more. I mean, something like Suiyoubi no Neko or Shochu Highball from what I heard in the show and reading the description of it seems like something that might get non-beer drinkers to try this;  and of course, how can we forget about Asahi Super………DRY!!!!
Our 4 main girls are quite likable but don't really expect (much) development as they do got their types: Michiru being the new girl in the city trying to make it, Nao is the fun, carefree, eager one that loves to drink and works in a clothing store, Makoto is Nao's younger yet calmer sister and while she drinks as well, just not as much as her big sis and Kae is the mother figure of the house, working as a successful wedding planner and the one time she drinks, her wild side was very known and…..OK, look, I saw that episode of her and hot damn, she's gorgeous.
Animation-wise, this is fine looking. Nothing about it stands out to me and all; the character designs are pretty good (especially Kae) and it is noting that this is the final production from Production IMS, who went into bankruptcy the following year and let us remember them for works like……*looks up them*…… Active Raid? High School Fleet? Hybrid x Heart? Oh shit, they did made those. But, yeah, it looks decent.
I like the opening song "aventure bleu" by Maaya Uchida, which was produced by Rasmus Faber and this song has an amazing buildup with its instrumentation and the vocals sound nice as well. The ending song,"Stoic ni Detox" by Mashinomi, is a bit more on the cutesy, bubbly side of ED songs. It's a nice song but I still fuck with the opening heavy. Oh, and I dig the dub of this as well, especially with Christina Kelly's performance as Nao and Juliet Simmons as Michiru.
FINAL VERDICT: I get that something like this doesn't really have much to discuss but as something that's anime comfort food (or drink, if you want to look it like that), this does the trick. It's a nice and pleasant watch with these 4 girls living their daily life and there's also alcohol in the presence that makes you feel welcoming and inviting. Yeah, I remember rating this highly back then and it remains the same.
8.5/10
TAKUNOMI. is available to own on Blu-Ray via Sentai Filmworks and to stream on HiDive/VRV.
I'm MAK2.0 aka The Blue Hybrid and underage drinking is prohibited by law…….yes, the anime says that every episode. These girls are 20 and over. Drink safe and be responsible.
TAKUNOMI – animated by PRODUCTION I.M.S