And we are at the last….at least, last for this year lists and it is the Best Anime of 2019!
I mentioned last year that since the dismantlement of Anime Strike, there has been more development on that like noitanimA and Animeism anime actually airing back on streaming services not named Amazon, with one exception but I think no one cared that much for Psycho-Pass 3 and this is definitely different from last year because there were no Amazon shows I watched this year.
Yeah, yeah, I know stuff like Dororo and Vinland Saga were a thing but I wasn't going to go through that shit again.
However, that also meant that the other streaming platform Netflix got more of an advantage as out of the 12 shows I watched, 6 landed on my top 20 and with the remaining CR/Funi teamups before splitting off, they also landed 5 spots while separately CR has 1 and Funi has 4. HiDive just has 2…….Yeah, Netflix continues to reign over having stuff I like the most.
OK, enough chitchat. It's time to get to this shit, stat!!
20.
GIVEN // 11 EPS // LERCHE // CRUNCHYROLL
Yeah, this is an very underrated series that most people were on the money when they said that it would go overlooked. This show does deliver something heartwarming and compelling in its story about this band and their relationships within it. A show that does have its audience of both music enthusiasts and LGBTQ anime fans and no doubt it deserves the acclaim.
19.
RILAKKUMA & KAORU // 13 EPS // DWARF // NETFLIX
I was way late on this and like Aggretsuko, this combines cute imagery and the harsh realities of life as you get older, especially when you're in your 30s, as you enter next phases in your life and adulting is hard and I got to pay a lot of medical bills an– OK, I'm getting off track. This show definitely hits you in a lot of places but still has a heartwarming bone in its body.
18.
ISEKAI QUARTET // 12 EPS // STUDIO PUYUKAI // CRUNCHYROLL/FUNIMATION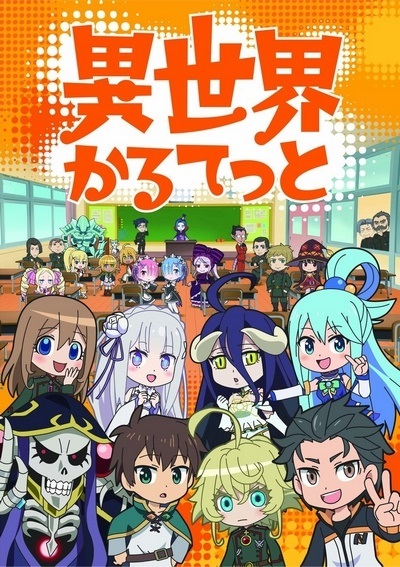 A collection of this decade's biggest isekai anime characters all in one show that's basically if Teen Titans GO! was anime and this time, I really liked it (I'm just very neutral on TTGo! as of now) and again, the 12-minute format helps this as there is many funny moments in this series as the characters from each show interact with each other and well…. it made me like Overlord now, just not enough to watch its separate show….. and since they announced that Shield Hero characters are coming there, I wonder how that plays out.
17.
MOB PSYCHO 100 S2 // 13 EPS // BONES // CRUNCHYROLL/FUNIMATION
Yes, people, the other sequel series based on an ONE property did better than the other one that aired the season after that one. This one had more emotional beats coming from here to Mob's development around him in high school and his powers and some things with Reigen, too. While I'm not much of an uber-fan of this as everyone else seems to be but I still respect it and it does deserve some praise.
16.
HOW HEAVY ARE THE DUMBBELLS YOU LIFT? // 12 EPS // DOGA KOBO // FUNIMATION
At first glance, it seems like it would be something for otaku to fap over but this show is genuinely funny with their leads and could help you with improving your health. I know since seeing this, I've been trying to lose some weight lately and this does have some helpful tips provided by Muscle Bro and the cast. Plus, perfect timing as this is a show that fits Summer.
15.
KAGUYA-SAMA: LOVE IS WAR // 12 EPS // A-1 PICTURES // ANIPLEX OF AMERICA
A love story that is just absurd and makes you shout "What is wrong with you idiots!?" Although that line is shouted more at Aniplex USA for not dubbing this show but anyway, Kaguya-Sama is a delightful comedy that just came out of nowhere on how they turn confessing your love into this game and as always, Chika is best girl of this show.
14.
CANNON BUSTERS // 12 EPS // SATELIGHT/YUMETA COMPANY // NETFLIX
It took them 5 years to finally get this into a series and while it's a crazy analgam of past anime like Cowboy Bebop, Trigun, Outlaw Star, etc., this is indeed a project made with love and care in this one creative world and it is a fun ride from start to finish. We just need a Season 2 because that ending kept it from being higher on the list.
13.
O MAIDENS IN YOUR SAVAGE SEASON //  12 EPS // LAY-DUCE // HiDIVE/SENTAI FILMWORKS
Let's talk about sex, baby! It's kinda awkward, baby!! And really uncomfortable especially when you know about it from the POV of these high school girls and man, did these girls went through some shit and some turns there. Awkward crushes, exploring your sexuality, overcoming your purism, flirting with some unknown guy from the internet….shit that could spell danger and how it might fuck up your psyche. Still, a coming-of-age story that is often needed in not only in anime but in storytelling overall.
12
AFTER SCHOOL DICE CLUB // 12 EPS // LIDEN FILMS // FUNIMATION
Just casually got into this and again, not an initial jump but still a charming, cute series about three girls and their friendship bonded through board games and meeting new friends, going on with their shortcomings and obstacles in life and just some plain hilarity in there as well, especially when Aya couldn't go to the beach that one time.
11.
DR. STONE // 24 EPS / TMS ENTERTAINMENT/8 PAN // CRUNCHYROLL/FUNIMATION
Talk about a major surprise as this show upped the ante when it comes to shounen anime and while MHA still holds the crown for me, Dr. Stone is definitely more unique in that department with solving things with SCIENCE and having the edge over the traditional opposing brute forces. It was an EXHILIRATING ride watching this show in summer and the fall season and I await the arrival of the 2nd season. As Senki said……Get Excited.
And now onto the TOP 10!!
10.
TEASING MASTER TAKAGI-SAN SEASON 2 // 12 EPS // SHIN-EI ANIMATION // NETFLIX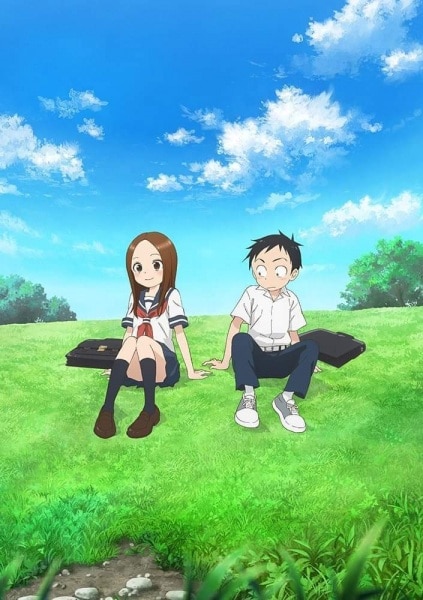 This show still has its chops of the antics of Nishikata trying to get back at Takagi but every time, she always got something up her sleeve and as always, this has a charming side to it and the jokes are plenty in good spirit. Not much as changed from Season 1….. well, except the fact that Netflix has streaming rights and the change in English dub casts. Still, this show is great.
9.
SENRYU GIRL // 12 EPS // CONNECT // HiDIVE/SENTAI FILMWORKS
I really love 12-minute format anime this year and this one has an infectious charm to it with using this haiku/senryu form of speaking 5-7-5 and it's both creative and easily genuinely sweet. I just hope Sentai announce a dub for this soon.
8.
THE HELPFUL FOX SENKO-SAN // 12 EPS // DOGA KOBO // CRUNCHYROLL/FUNIMATION
The feel-good anime of the year!! This somewhat has an relatable thing shown here: working too much will leave you exhausted and broken and this solves it by bringing a fox deity that looks like a little girl cosplayer and thankfully it doesn't do anything to weird out the viewer because something like this would easily be interpreted as that. It's comforting, sincere, relaxing and will leave a big smile on your face.
7.
KAKEGURUI XX // 12 EPS // MAPPA // NETFLIX
Hey, I can add this show to a list and once again, this show shows why I'm terrified of these girls in this series with higher stakes, wilder people entering the fray and the continued focus on its players. It's crazy as fuck and I love every minute of this.
6.
MY HERO ACADEMIA S4 // 24 EPS // BONES // FUNIMATION
Yes, you knew this show was still going to be on this list and why shouldn't it be? It still continues to be an amazing action superhero show that always got heart when it comes to characters, especially its newer introduced characters in the series so far. You think I would get sick of it but it helps that this show takes breaks and not run year-long and be tiring to watch. *coughBlackClovercough*
5.
MY ROOMMATE IS A CAT // 12 EPS // ZERO-G // CRUNCHYROLL/FUNIMATION
This show has all the emotions mixed up and everything on it hits every time when it comes to both the author and the cat's pasts and they all show signs of regret, pain, and just hardship. Then you also got the good/humorous times of feeding time, interacting with people around the author (and other pets around the cat) and even though my cat isn't my roommate anymore (they moved out after this show ended), this show is genuinely heartwarming.
4.
AGGRETSUKO SEASON 2 // 10 EPS // FANWORKS // NETFLIX
This show just keeps getting better and better and hits harder when topics like marriage, your parents invading your private space because they think they can and trying to run your life like they can't do it. Basically what millennials like me go every day. This along with Rilakkuma and Kaoru are representative of what we go through in our adulthood and why Africa Salaryman is just too bland and not that funny to care about. This, on the other hand, gives me humor and some commentary that works and I will continue to watch this as S3 comes.
3.
THE PROMISED NEVERLAND // 12 EPS // CLOVERWORKS // ANIPLEX OF AMERICA
I think the reception of the anime has been mostly mixed and it's mostly manga-related but you know I always base my opinion on its own and this has been amazing. There has been no other anime where I felt this much suspense and horror than most anime trying to be that. It also works that it doesn't wallow in nihilism and actually has a character (Emma) wanting to save everyone in the orphanage. Now Season 2 could make or break this show but still great show.
2.
ASTRA LOST IN SPACE // 12 EPS // LERCHE // FUNIMATION
Probably the biggest surprise anime of the year and I extremely got into this show as the first episode was up and that was a 45-minute episode, usually a pet peeve of mine but it doesn't do any info-dumping on me. Every character I instantly like and immediately want them to survive, even those who I thought I was going to hate but you understand them as the series goes on. There is always a twist and turn here and it gets more heartfelt and exciting to watch and yet it's not the top spot……
That means to go to…..
1.
CAROLE & TUESDAY // 24 EPS // BONES // NETFLIX

Granted, I haven't wrote anything about this…..yet…. but everything with this show clicked with me. This is a show that has you rooting for the underdogs being the titular characters, going into what most know about the music industry with some subtle references and events from IRL. You'll get the joys and pleasures of it while you'll see the hardships and stress that comes with it. I just love this show and watching it has been a grand experience. The characters are excellent and even if you felt one character is kinda a bitch, that will turn around (just watch). The animation is good, the music is fucking outstanding and overall this is another amazing project from Shinichiro Watanabe and Motonobu Hori as well. They have delivered another anime I'm proud to call…..
My #1 Anime of 2019.
I'm MAK2.0 aka The Blue Hybrid and …… wait, we got another list to do…..you know what list.