Before we get into it, we must acknowledge the Typhoon Hagibis that occurred around the Shizuoka Prefecture at the 1900 JST hour on 12 October 2019. Our heart goes out to those trying to survive this as it is the most powerful typhoon they have had.
And now…..
Yes, you'll notice there was a delay of this due to what I just said…….but it's up now.
This is My Hero Academia Season 4!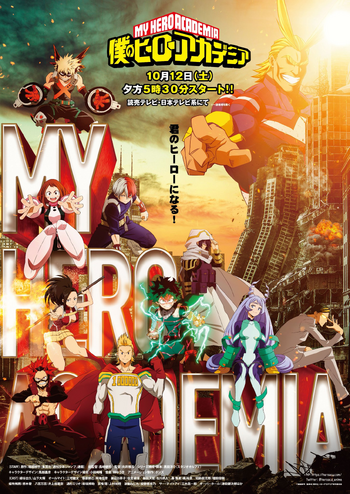 Chief Director: Kenji Nagasaki
Director: Masahiro Mukai
Series Composition: Yousuke Kuroda (Studio Orphee)
Script: Yousuke Kuroda (Studio Orphee)
Music: Yuki Hayashi
Original creator: Kōhei Horikoshi
Character Design: Yoshihiko Umakoshi
Animation Production: BONES
Internet Streaming:
AnimeLab (Australia and New Zealand)
Crunchyroll (US, Canada, UK, Ireland, Australia, New Zealand)
FUNimation Entertainment (US, Canada, UK, Ireland, Australia, New Zealand)
Hulu (US)
Licensed by: FUNimation Entertainment
Plot Summary: We're continuing on with the Shie Hassaikai Arc, beginning from Episode 62 of the last season as the students Class 1-A learn about Hero Internships, which deals with being mentored by a real Hero where real experience can be gained.
First Thoughts: Now usually with how things start here in each season since the 2nd, it's either something of a recap episode and well, it's an anime original episode so it's more of catching up with the characters and seeing what's to come especially with the League of Villains. It's the warm-up to what's to come and we all know that everyone is going to tune into this and so will I.
You already know this is going to be a CONTINUE WEEKLY and yes, I will be watching the dub of it as it has the same-day simuldub thing…..at least, until the inevitable delay because it always happens with this show.
And you know what? I would say I'm done but I got one more title to cover.
I'm MAK2.0 aka The Blue Hybrid and if your quirk is having a lot of lens on your body, you'll be one hell of a photographer.