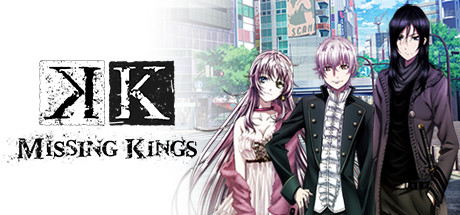 Well, I'm going back to a title that I haven't watched at all since….. 2013.
I remember back then when Neon Alley was a thing (yeah, remember that linear anime channel back in 2012-2014?) and I remember watching this show a lot and while I admit I thought while some of this might have been confusing for me the first few times and having re-watched it recently, it was….. well, I don't think it's crap but I wouldn't put it on a high-tier mark. It's something I would watch on a slow day.
Since then, this series has gotten a follow-up movie, a 2nd season that aired in 2015 and a movie series shown in theaters last year (2018).
In other words, there is a lot of cover on this particular franchise but today, we're just going into the follow-up "movie"….. and why I got it in quotes, you'll find out.
In the aftermath of the loss of the Silver and Red Kings, Kuroh and Neko continues to look for Shiro, whom they believe is still alive. Meanwhile, HOMRA members have dispersed, leaving Yata and Rikio to take care of what's left along with Anna, whose powers became unstable. As the Green Clan makes their appearance and kidnaps Anna, the remaining members of Silver and Red Clans unite to save her and to hopefully discover the outcome of having lost their Missing Kings.
Yeah, the run time of this is about 103 minutes……actually, no, the first 30 minutes are the recap of what happened in the series. For what happened during the last episode before this, Mikoto Suoh stabs Shiro, who was taken over by the Colorless King who actually killed Totsuka during that night and Shiro is actually Adolf K. Weissman aka The Silver King and that leaves Munakata (Blue Clan leader) killing Mikoto, leaving the Red Clan aka HOMRA in disarray, causing them to split with Izumo going somewhere in Germany and Yata pining for those glory days again.
Yeah, the whole vibe is this feels like an extended episode or an OVA… at least I feel like that's more appropriate to call this instead of a movie. Granted, this is more centered to the Red Clan, particularly Anna who has a big part throughout the movie and with what's happening with the Red Clan. The Blue Clan, however, is there. They are…. just there. They don't have much of a presence here except with Fushimi and Yata had that talk on the phone. Oh, and now going back to the show, man, Fushimi is a little bitch.  Yata may be a hot head (a type in anime that annoys me easily) but at least I get and understand why his character is like this as Fushimi feels like that dude you know is sneaky as shit. Oh and I did say that Neko was annoying in the series and the annoyance lessens throughout the last 6 years since I watched it and she's tolerable. Kuro's cool, too and we do get something with Shiro/Weissman…. just near the end of this.
As for animation for this show, if you watched the series, they still retain that visual style of the season and now that unfortunately GoHands is now known for making shit like Hand Shakers 1 & 2 (I know it's called W'z but it's basically HS2), you start to see that maybe their style isn't all that flashy. Then again, back then it was annoying to with their overusage of blue filter and this is coming from someone who loves the color that it's too much blue! The CG doesn't age well, the fight scenes have some weird interesting angles
The one aspect that always got me into this show (or franchise) is the music done by Mikio Endo with either the mellow piano with some vibes that reminds me of anything from Nujabes (well, you might figure it out if you listen to any of his stuff) to the high-action scenes. The ending song…. well, it's meh. The English dub voice work is still solid from the series from all around with some changes in actress although those characters' roles are very minor like Seri (voiced by Tara Platt in the series, now played by Carrie Keranen here) and Kukuri (voiced by Carrie Savage in the series, now played by Janice Kawaye here). With that said, I didn't noticed that Seri's VA was replaced, but I did with Kukuri once I heard Kawaye's voice there. Again, the voice work is solid here.
FINAL VERDICT: K: Missing Kings basically felt like an overextended Season 1 finale. The whole thing was like an episode stretched into feat– OK, not feature-length but getting quite there and everything visually was cool as usual with this. Again, it's something I would watch if I'm bored but not one I would own on physical media unless you're really into this show.
Therefore, Missing Kings gets the grade of
5.5/10
K: MISSING KINGS is available to own on DVD & Blu-ray and streaming on Hulu (sub only). You can also buy or rent it on YouTube.
I'm MAK2.0 aka The Blue Hybrid and yeah I'm going to watch Season 2 of this as well.
K: MISSING KINGS – animated by GOHANDS / licensed by VIZ MEDIA