Summer is finally dying down, huh? So now, y'all are ready for fall and then when winter comes, the cycle of weather complaining begins again.
You know that time once again as I give my final impressions of the summer anime shows I've watched this season and thankfully, there were less around this season as most of the shows I watch are either on the weekends (that always happens a lot sometimes) and I didn't overdose as much shows as I did the previous season.
Now was there some Netflix picks? Well, I'm currently watching part 1 of Last Hope and that show is…. well, it's nothing new but it's watchable to say the least. Oh, and of course FLCL Alternative just begun airing on Toonami and….it's fine so far and a review for that should be out when it's over.
Once again, Amazon had a good amount of highlights of having good shows on there and also having the worst show of the season but since I didn't cover Happy Sugar Life because I heard how awful it is, I don't have to say shit about it! Too bad that Sentai's simulcast picks were not good at all. I dropped The Thousand Musketeers around it's 3rd episode as the adventures of that show's premise just never stuck with me after a while and before all of you say that I should've checked out Revue Starlight, I did and honestly……well, it's a show. People kept saying it's an Ikuhara rip-off and well, it's about as physically pleasing and nonsensically blase as his works tend to be, the characters in here are…..well, actually characters and not just pieces of hollow symbolism yet I'm not in a rush to keep up with it. Oh, and I did watch Island in English dub and I just have to say, what the hell happened there and why did it turn into an dystopian anime at the last third of this series?
As for holdovers, the only ones going in Fall are Banana Fish and Attack on Titan Season 3 and thankfully, those shows are still damn good, especially the former as it's been a good year for noitanimA shows as all three of them have been exceptionally great. Oh and since Angels of Death is 16 episodes…..I guess it's a holdover even though it's only for 4 more episodes but that show is good, too. Oh, and I just finished Dragon Pilot, that Spring show that eventually aired on Netflix and oh, my god, this show is fluffy and damn good!!!! This is another AOTY contender for me!
Now then…….
DROP-KICK ON MY DEVIL (aka JASHIN-CHAN DROPKICK) // Nomad // Amazon
A lot of people have said that another show was the funniest show of the season and having watch that show, I say Drop-Kick on My Devil is funnier and much more enjoyable. Yes, I know the gags of Jashin being a bitch to everyone including her awesome and adorable devil friends Medusa and Minos can be mean  but with Yurine always torturing Jashin for being a bitch, it plays out very well. There's also the funny 4-wall gags, especially with the goat devil and the funny transitions into each segment of the episode, I really loved this. (9/10)
LUPIN THE THIRD PART 5 // Telecom Animation // Crunchyroll
So, yeah, Part 5 of Lupin was pretty good from having the whole internet seeing what Lupin is up to and trying to evade that but as always, the internet always watches him and having a government of a foreign country and fake-ass social media on his ass and the gang got themselves a new comrade with Ami and I really got enthralled with this entry, even more so than Part 4 and now, I await its inevitable Toonami run. (8/10)
HOW NOT TO SUMMON A DEMON LORD // Ajia-do // Crunchyroll/Funimation
Wow, I really thought this was going to be a stinker of a show but yet it turned out to be actually pretty decent. Yeah, I know. Usually, the "they know it's trash" is a shit excuse for a shitty show for me but it shows to be funny, have some genuine character moments, an element used that would be lazy but is actually done well and the characters aren't half too bad and you actually care for their concern (and yes, my favorite girl in there is Shera) and the main character Diablo may be this bad-ass as he portrays himself but is still a nervous-ass shut-in gamer nerd on the inside. So yeah, this is very acceptable. (6/10)
HARUKANA RECEIVE // C2C // Crunchyroll/Funimation
So, we got 2 sports shows this season that's female-oriented and you're thinking that "oh, there's going to be a lot of fan service and butts and boobs" and yes, there is going to have that but that was never going to be the only focus of that (also who classify this as ecchi?). There is a damn good amount of character interaction/development between the pairs of girls and surprisingly, I've been hearing this is actually accurate info on playing volleyball (I don't know much about volleyball but it seems legit.) Plus, I legit like all the characters, especially the lead Haruka as she always have a good head on her shoulders. This show is the definition of a summer anime as it feels like summer whenever you watch it. (9/10)
CHIO'S SCHOOL ROAD // diomedea // Crunchyroll/Funimation
Did it bring the wacky? Did it show you a lot of strange things happening while Chio and friends are on their way to school and some other segments with that? Well, this show absolutely does it all and its humor can go either "Hah! That's pretty funny!" to "What in the hell?!" to "Damn, that got a bit dark for a minute." Also, watching this again in English dub made it funnier watching it the 2nd time. (8/10)
GRAND BLUE (DREAMING) // Zero-G // Amazon
If you're looking for a serious show about diving, well, you will be disappointed but if you want a funny show involving a lot of drinking, ugly anime faces, major misunderstandings, drinking, big buff naked dudes with dong out, drinking, sexy girls in bikinis, drinking, drinking and more drinking……yeah, this is for you and yet as funny as this can get, it can get draining and repetitive and kinda boring halfway in the show and the misunderstandings with some of the girls (save for Azusa, she's the only girl in there I like and would party with) can get annoying and them being annoying at the guys being rowdy and drinking can get annoying. it's not horrible by any means but it can wear off very easily, at least for me. (5.5/10)
YUUNA AND THE HAUNTED HOT SPRINGS // Xebec // Aniplex of America
This was something that was teetering close to each spectrum's edge. On one hand, I sense the harem tropes and gags like accidental boob-grab or seeing someone naked and them beating on the guy for something out of his control coming a mile away and I often groan and get annoyed but it did chill on that on some episode and they did show on what I initially like about it with the relationship between Kazuyora and Yuuna, although the girl do sometimes be ghost sleeping with her ass on his face. But the other characters do have some development to them and I've even warmed up to Sagiri on some episodes. But yeah, another one that's just 'eh' to me. (5.5/10)
CELLS AT WORK // David Production // Aniplex of America
Talk about a show that garnered a lot of buzz as it was airing. It has everything anime fans will like such as some good 'ol action with the white blood cells fighting many viruses and other bodily-fatal threats, you discovering that your blood might be best waifu all over and of course, you can't forget about those oh-so adorable platelets with this fascinating show about how the body works like a city and yes, I know Osmosis Jones did this before but did you really thought about him after 17 years of him…..just existing? But yeah, cool show. (7/10)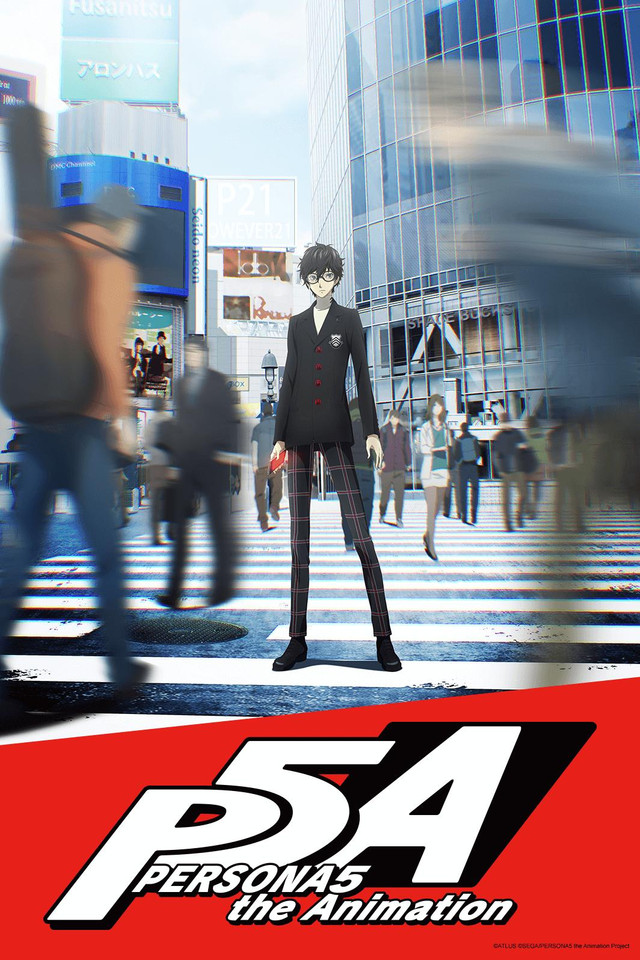 PERSONA 5 THE ANIMATION // CloverWorks // Aniplex of America
I'm cool with this.
……
OK, I don't have a lot of say about this as I know more people into this show that can tell it better than me, especially one reviewer I know at SR doing weekly reviews of that (hey, KhakiBlueSocks!) and another friend of mine that often posts about stuff like this and watches other anime as well as one other one I'm bringing up at the end of thi (hey, Fallout48!) but I'm just going to do at this from a casual POV and….well, I liked Persona 4 The Animation and like that show, I dig the characters, the animation and visuals are good in my eyes, music is damn good on here and yeah, that's about it. (7/10)
MASTER OF RAGNAROK & BLESSER OF EINHERJAR // EMT Squared // Crunchyroll/Funimation
Welp, this was just boring and I mean, motherfucking boring!!! This is what I fear How not to Summon A Demon Lord would be and while that has its fair share of problems, this is somehow worse with a lame protagonist, your basic-ass harem of girls that have no character and just exist to make weird fantasies and also (sorta) incest since one keep calling him Father or Brother and they rub on his ass a lot and of course, he got a girl back home or something. I honestly don't care. Everything about this show is either predictable, by-the-numbers and blase as hell. (3/10)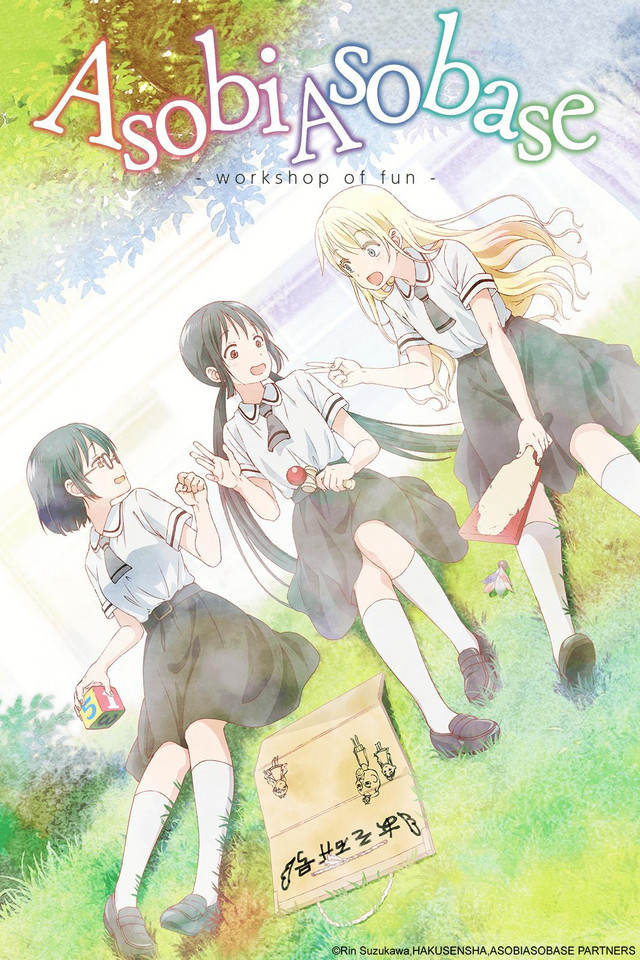 ASOBI ASOBASE: WORKSHOP OF FUN // Lerche // Crunchyroll
So you didn't expect this kind of absurd weirdness when you saw the OP of this as that's like every slice of life anime series and then after the insanity of this, you get a metal-as-hell ED song that really kick some ass. With that, the antics of these 3 high school girls in the Pastimers Club and like I said, absurd stuff happens that will make you make those ugly faces they did in the show and those moments of humor that click, although I think some of this won't click with other people but hey, their loss. I'd definitely fuck with this. (7.5/10)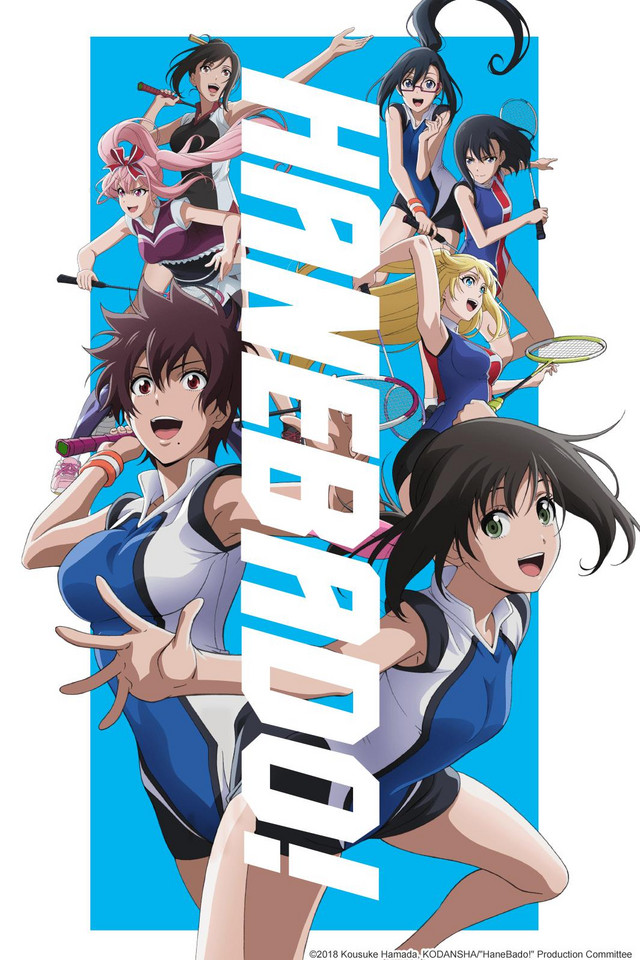 HANEBADO! // Liden Films // Crunchyroll/Funimation
I know earlier in the season most people declare Hanebado! as the anime of the season but I did had a feeling that some of the quality of the show did decline, especially with the whole thing with Ayano and her mom's reason for abandoning her and damn, the melodrama is very set in here. However, this is still a good show for the season with enough good characters, great animation with the badminton scenes and I also never would have thought to check it out but glad I did. (8/10)
MY HERO ACADEMIA SEASON 3 // Bones // Crunchyroll/Funimation
Aahhhh…… that's the sound of me loving this show even more and more as much episode goes by and I still love everything about this show and we definitely learn more into these villains, more into All Might's past with All for One , the young heroes at Class 1-A going through a lot of shit from fighting villains in the woods during their training, getting their Provisional Hero License and the pacing never felt too quick or slow, it actually moves to a good pace and whatever filler is in there is actually entertaining and doesn't drag the story down. Again, this is something that's popular that earns its hype and attention and while I do like and respect shonen shows like Hunter X Hunter, One Piece and Jojo, this is one that just sticks to me the most. (10/10)
RANKING TIME!!!!
POP TEAM EPIC

MY HERO ACADEMIA SEASON 3

AGGRETSUKO

DRAGON PILOT: HISONE TO MISOTAN

WOTAKOI: LOVE IS HARD FOR OTAKU

DROPKICK ON MY DEVIL

TAKUNOMI

HINAMATSURI

HARUKANA RECEIVE

FLCL PROGRESSIVE

DAGASHI KASHI 2

AFTER THE RAIN

LAID-BACK CAMP

BANANA FISH

MEGALO BOX

TADA NEVER FALLS IN LOVE

HAKUMEI AND MIKOCHI

LUPIN THE 3RD PART 5

HANEBADO!

A PLACE FURTHER THAN THE UNIVERSE

CHIO'S SCHOOL ROAD

KARAKAI JOUZU NO TAKAGI

ATTACK ON TITAN S3

VIOLET EVERGARDEN

MITSUBOSHI COLORS

CELLS AT WORK

SWORD ART ONLINE ALTERNATIVE: GUN GALE ONLINE

ASOBI ASOBASE: WORKSHOP OF FUN

FLCL ALTERNATIVE

KILLING BITES

SPACE BATTLESHIP TIRAMISU

UMA MUSUME PRETTY DERBY

GOLDEN KAMUY

ANGELS OF DEATH

KOKKOKU

B: THE BEGINNING

PERSONA 5 THE ANIMATION

COMIC GIRLS 

HOW NOT TO SUMMON A DEMON LORD

YUUNA AND THE HAUNTED HOT SPRINGS

SLOW START

DARLING IN THE FRANXX

A.I.C.O. -INCARNATION- 

CALIGULA

LAST HOPE

DOREI-KU THE ANIMATION

DEVIL'S LINE

LOVE TO-LIE-ANGLE

FATE/EXTRA LAST ENCORE

GRAND BLUE

ISLAND

JUNJI ITO COLLECTION

SWORD GAI THE ANIMATION

REVUE STARLIGHT

BEATLESS

CITRUS

KAKURIYO: BED AND BREAKFAST FOR SPIRITS

THE MASTER OF RAGNAROK & BLESSER OF EINHERJAR

REAL GIRL

MY SWEET TYRANT

HAKATA TONKOTSU RAMENS

RECORD OF GRANCREST WAR

DEATH MARCH TO THE PARALLEL WORLD RHAPSODY

MAGICAL GIRL SITE
Now we got one more season to go and we got a lot of sequel shows coming this fall from A Certain Magical Index, Ace Attorney, Castlevania, Fairy Tail, Golden Kamuy, Jojo's Bizarre Adventure, Sword Art Online and you already know my decision on that latter show and that's it but hey, you don't get to hear me complain about it. Just don't bug me about it; I've made my decision. Anyway, for other shows, Double Decker looks like to be the anticipated show of the season as well as RErideD as those shows already premiered on Crunchyroll and yeah, I'll get to them later on when October starts. There's also Zombieland Saga and SSSS. Gridman to look forward and we shall see if those manage to be good shows in the end.
I'm MAK2.0 aka The Blue Hybrid and watch out for the sirens……