Well, I haven't done any of this in a while……and yeah, I have misnumbered a HyLights Review back in August and this is actually number 48. Yes, I know, I have done only 48 entries of this brand in total of the 6-7 years I have been doing this, in comparison to my 190+ Anime Discoveries, many countless Time of the Season first impressions and the list just goes on and on…..
But you know what? I'm going to get back to some content in here that's less anime-related, at least with this one.
Since 2018 started, Cartoon Network has been on a roll with debuting some new shows for the network for the first four months of this year whether it's two original creations and one show based from one character from a certain movie any of us liked, even though the teams from that and Teen Titans Go are involved in the show as well and this is the only time I'm mentioning that show here.
But yes, let us get into these three shows, first with the one that premiered earlier this year although it had a sneak peek last year….Unikitty.
So, yes, you know that one character from The Lego Movie that's always happy and smiley and making sure everyone is happy but when she gets angry, she's raging fire incarnate? Yup, she got her own show but like most properties going to TV, some changes was to be made like the animation style is less Lego (well, you get that in the opening but that's it), more of flash animation and the obvious change is the voice of Unikitty and come on, you knew Alison Brie was too busy to be on this since she got GLOW and Bojack Horseman to work on and replacing her is of course, the voice we all know and love from many of us growing up in the late 1990s-2000s, Tara Strong.
And hey, I liked her performance in there. It's what you usually hear from her in her sugary, sweet tone but she sells it.  Also, I didn't know it was Grey Griffin voicing Puppycorn until I looked it up and the gruffiness in the voice did threw me off a little…oh yeah, in the show, Unikitty has a brother named Puppycorn because Unikitty….Puppycorn….you get it now and also Dr. Fox, whose a…..well, she's a doctor who happens to be a fox and hey, Kate Micucci!!! I hear her here, too. With this, DuckTales 2017 and Steven Universe, she's definitely busy with animation roles.
Anyway, on the show itself. It's……OK. Like, it's mostly the misadventures of Unikitty and her friends in her UniKingdom doing a lot of shit. You can just jump in any time with this show and you won't miss a thing. Some of the humor can get hokey sometimes and the repetitiveness of the characters can wear on me for a while but to be honest, I still enjoy watching it time to time. It's a good watch for me.
Oh, and Babymetal performs the opening theme to the show and pretty fitting to the show and the character itself.
Now…..
OK, I didn't know this was a thing until a commercial popped up.
So, this is a series created by George Gendi, a former storyboard artist on The Amazing World of Gumball and like that show, it was pitched at CN's Europe Studio but it got around the main division around the time he was working on Gumball.
The show is this –> Set in a world populated by anthropomorphic food, Apple and Onion, a pair of childlike newcomers to the big city, attempt to fit in to their new surroundings.
And……..I'm just very meh on this.
I mean, I was getting some Regular Show vibes from this but not as memorable as that show was. It is that formula of exploring their surroundings and all and all sorts of crazy adventures are waiting to happen and this is some odd shit galore with the characters' mannerisms and the fact it's talking food. So, if it's that….how they eat then? Then again, I shouldn't think about it much as apparently this just ended or something and yes, I noticed one of them is voiced by Richard Ayoade from The In Crowd……I know things…..but for this show, it's just very OK to me.
And now…..for a show that I went from being OK and liking and loving in an instant…..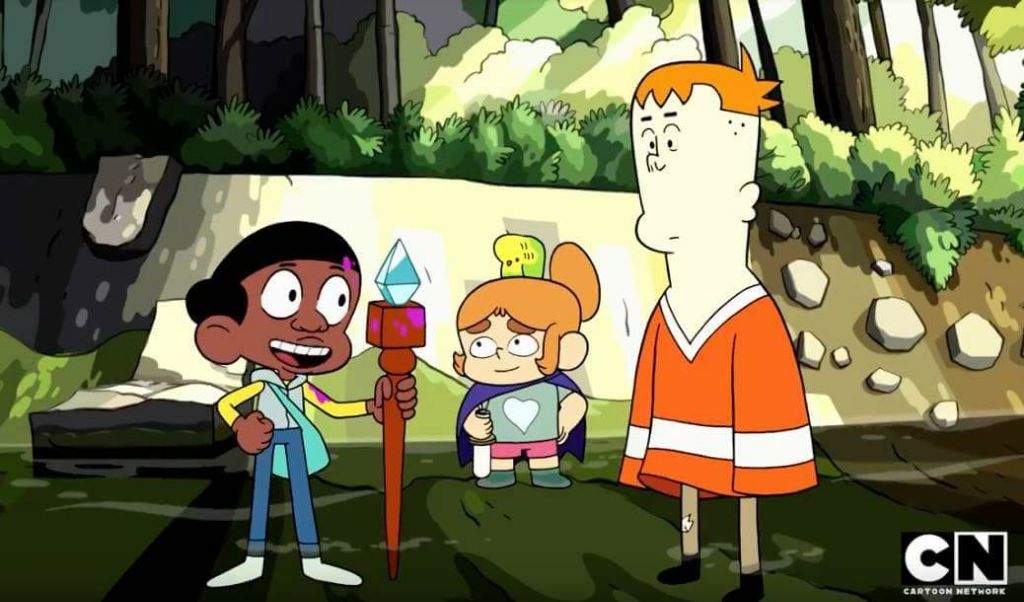 The show follows a young boy named Craig Williams, his two friends Kelsey and John Paul "J.P.", and their many adventures in the titular creek, described as a kid utopia of untamed wilderness in which tribes of children reign over tree forts and dirt bike ramps.
It's created by another pair of people from previous existing CN shows, Matt Burnett and Ben Levin, who were story editors/writers on Steven Universe and….apparently are writers from that Level Up, you know, one of those live-action shows CN tried to do but failed miserably at? Yeah, let's never mention that again.
Anyway, I was feeling this from the beginning as this is like a version of Clarence that I found more appealing to me that doesn't  (and no, I don't hate Clarence. That one is just meh to me as well.) It's also another one of those shows where I liked the overall presentation of these young kids having a place to hang around in before dinner time and the exploration of the many people inside the creek. I was instantly into a lot of these characters and see how these people feel you might know someone like that in real life or how your family can remind me of your own. I mean, I know most people might have a older sibling like Bernard or a friend like J.P. or Kelsey.
Also, who doesn't love Terry Crews as Craig's Dad? I mean, that's just icing on this well-made cake of a show. Not to mention this show is very diverse as hell in characters and hell, the music is composed by Jeff Rosenstock and yes, I kinda know who he is…..but Rob's the one that listened to him recently so bother him with that.
So, yeah out of all these shows I just looked at, Craig of the Creek got me looking forward to it whenever a new episode comes on or whenever I catch it on the app. Between this, OK KO, Steven Universe, We Bare Bears, Gumball and Unikitty….I got a lot of good company in CN shows and hopefully they won't disappear and be forgotten into a timeslot of Boomerang. I mean, when's the last time you heard anything new on Mighty Magiswords?
Oh, and those worried that Infinity Train wouldn't go to series……..it's coming in 2019…….relax.
AND THAT IS ALL FOR THIS ENTRY!!! NOW FOR PROMO TIME!!!
So in case you forgot or I forgot to bring this up in this site, I've joined Surreal Resolution full time in reviewing music albums for the site and yes, most of them will be primarily hip-hop, R&B and/or electronic albums aka the ones I want to choose to review.
Recently, I have put out reviews for:
Lil' Yachty – Lil Boat 2
Jean Grae and Quelle Chris – Everybody's Fine
Flatbush Zombies – Vacation in Hell
And I got more coming on the pipeline but I'm not telling you yet…..although a certain someone who went platinum with no features decides to drop an album this week and you'll hear about it soon enough.
Until then, I'm MAK2.0 aka The Blue Hybrid and folks, I'm going to be a busy Hybrid this year.